Popular type of home water purifiers are activated carbon, reverse osmosis, ceramic, UV or a combination of them. Choose one which has been tested and certified with the features that you are looking for. Independent organizations like NSF International or the Water Quality Association (WQA) have databases that consumers can easily search to learn more about the type of contaminants each model has been tested for. 
Reverse osmosis system has a filtration rating of 0.0001 micron making it very effective at removing most of the contaminants found in our tap water. However the membrane does not block VOCs very well and it also removes healthy, naturally occurring minerals in water which our body need.
Activated carbon filtration system is effective in removing chlorine, sediment, volatile organic compounds (VOCs), taste and odor from water, retaining essential minerals. Typical particle sizes that can be removed by activated carbon filters range from 0.5 to 50 micron. They are not very effective at blocking heavy metal, radioactive substance and microbes.
1. Amway eSpring Home Water Treatment System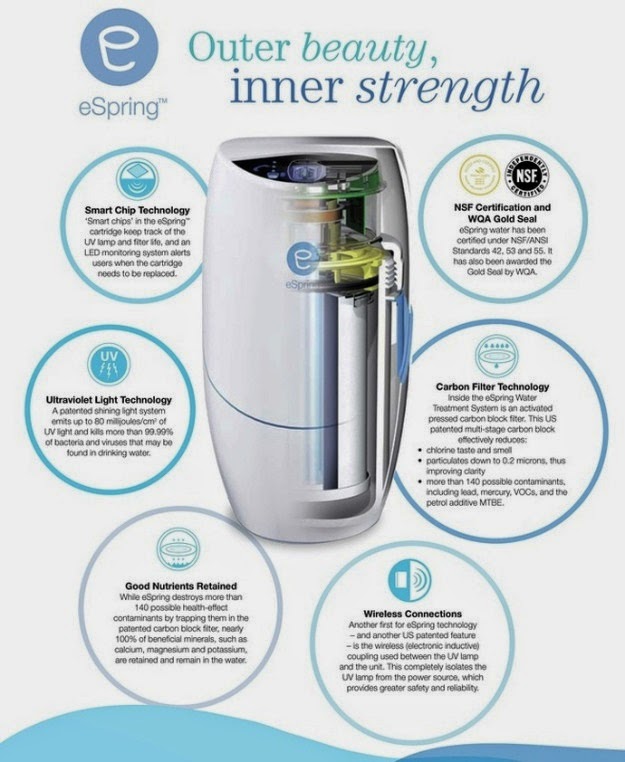 The eSpring Water Treatment System combines carbon block filter, UV light, and electronic monitoring.
Carbon block filter
Inside the eSpring Water Treatment System is an activated pressed carbon-block filter that effectively removes:
chlorine taste and smell
particulates down to 0.2 micron, which improves clarity
more than 140 possible health-effect contaminants, including lead, mercury, VOCs, and the petrol additive MTBE
readily bonds to many organic carbon-based compounds such as pesticides and herbicides, filtering them out.
Inorganic compounds like beneficial minerals, such as calcium, magnesium and potassium, pass through unchanged and remain in the water. 
UV Light
A patented UV light system destroys more than 99.99% of bacteria and viruses that may be found in drinking water. 
Electronic Monitoring
'Smart chips' in the eSpring monitor keep track of the UV lamp and filter life, and an LED display lets you know when the cartridge needs to be replaced.
PH
Initially the carbon activation process leaves an alkaline surface on the carbon that is similar to baking soda. This alkaline surface raises the pH of water that initially passes through the filter to the 9-10 range. This pH shift is well within the acceptable range for drinking water. After approximately 58 litres (15 gallons) have passed through the filter, the pH level drops to about 8.5. After 190 litres (50 gallons) have passed through, water pH is between 7 and 8, nearly identical to untreated water.
Certifications
Certified by (for Amway) NSF International (NSF/ANSI Standards 42, 53, 55, 401, P473, P477) and earned the Gold Seal from the Water Quality Association.
Warranty
Two years comprehensive product warranty (This warranty does not cover replacement parts and wear-and-tear components)
Cartridge Capacity
Lasts up to 5,000 litres or 1 year – about RM700 per cartridge
Price
RM4,250 (Amway.my)
HKD7,546 (amway.com.hk)
2. Coway Villaem 2 Reverse Osmosis (RO) Water Filter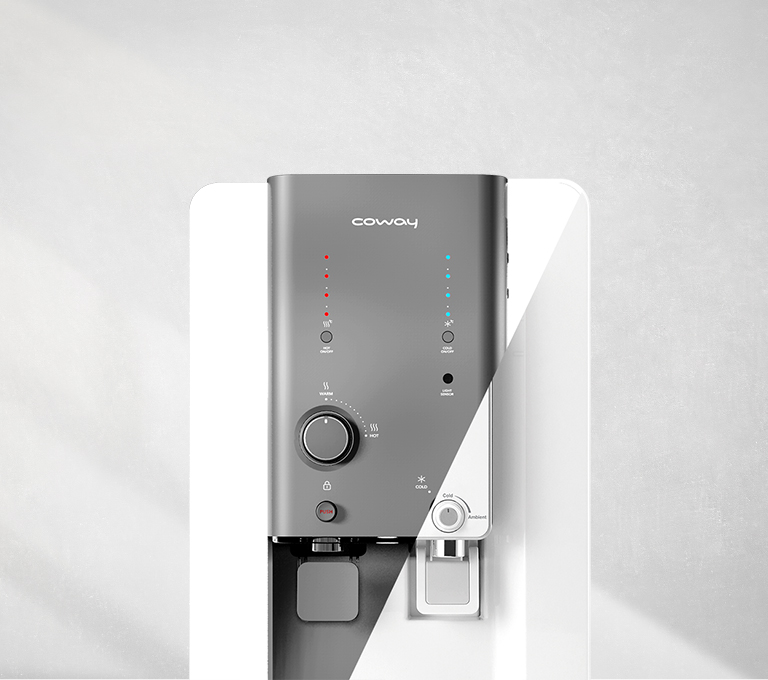 Villaem 2 is a 0.0001 micron fine reverse osmosis filtration system with a big water tank capacity of 11.3L and elegant design.
What's Behind the Filters
Neo-Sense Filter (Step 1: Plus Sediment + Step 2: Pre-Carbon Filters)
Removes particulates, chlorine, volatile organic compounds (VOCs) and dissolved organic and inorganic impurities.
Step 3: RO Membrane Filter
Removes water contaminants such as heavy metals, harmful organic chemicals, microbes as well as radioactive substances are all removed.
Plus Inno-Sense Filter (Step 4: Post Carbon + Step 5: Fine Filters)
Reduces odours and improves the taste of water.
Step 6: Antibacterial Filter
Prevents growth of microorganisms inside the water tank.
Certifications
All filters are certified by WQA, Halal.
The filters in STEP 1 &2 (CNFN11S), STEP 3 (CRMFN11-50) and STEP 4 & 5 (CIFN11-PLUS) are certified components by (for Coway) NSF/ANSI 42 (Aesthetic Effects), 58 (Reverse Osmosis Drinking Water Treatment Systems) and 401 (Emerging Compounds/Incidental Contaminants) 
Features
FOUR WATER TEMPERATURE WITH INDICATOR – Dispenses ambient, cold, warm and hot water
MOOD LAMP – Illuminates the products when there is insufficient lighting during the night.
DETACHABLE FAUCET – Detachable faucet for easy cleaning.
POWER SAVING SYSTEM – The numbers of operating motors and heater decrease automatically at night to reduce power consumption.
CHILD SAFETY LOCK – Keeps young children safe from accidental hot water burns.
TANK CAPACITY – 6.4 Litres Ambient Water | 3.7 Litres Cold Water | 1.2 Litres Hot Water
Downside
The downside is the removal of healthy, naturally occurring minerals in water which not only provide a good taste to water, but they also serve a vital function in the body's system. 
Retail Price: RM3,900 (Free 1-Year Service For Outright)
Rental: RM120 per month (Free 5-Year Service For Rental)
3. Aqua-Pure DWS 1000 Drinking Water Filter Sytem by 3M™ (Undersink)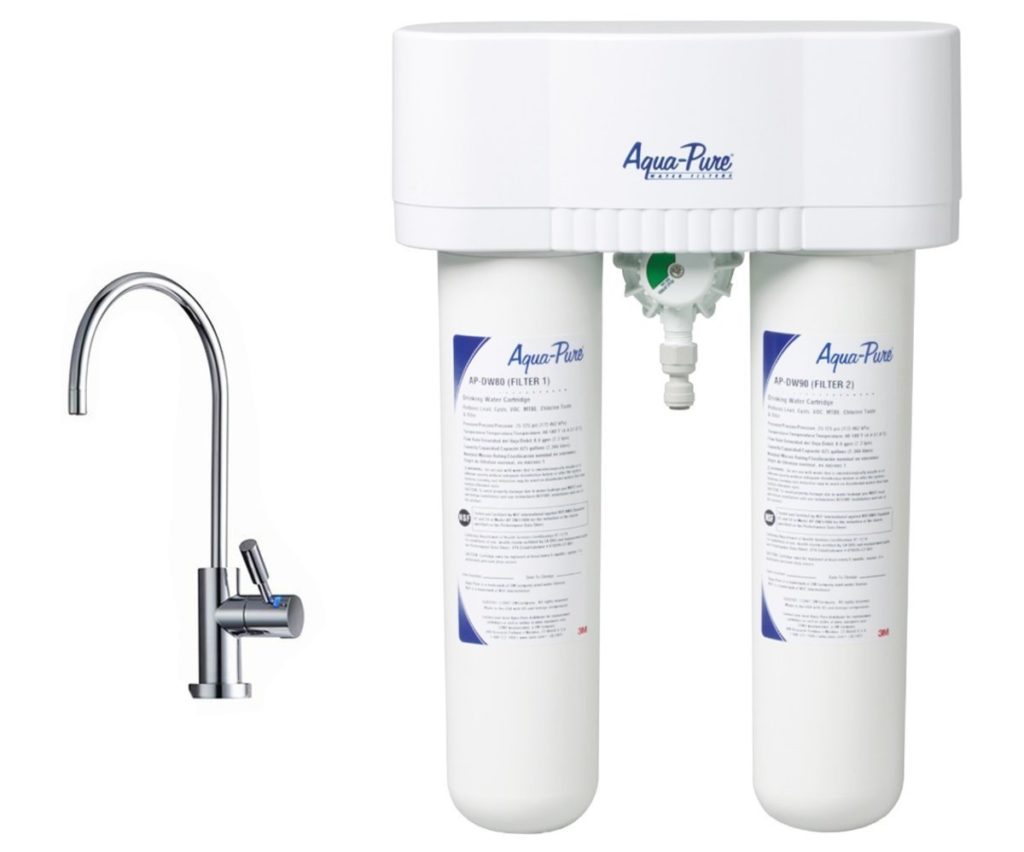 This filter has an advanced dual stage carbon block filtration system. You do not have to worry about cartridge change is easy and smooth as always. The filter comes with a complete installation manual that helps in easy reference and simple installation. You can also hire a plumber for the installation or do it yourself.
Features
Deluxe dual-stage system
Special monitoring device shuts off water – as a reminder to change cartridge
Fully enclosed filter media – No spill, no mess
Sanitary Quick Change (SQC) design – Easy cartridge change-out
Inclusive of installation fittings, faucet – Trouble-free installation
Manufactured from FDA CFR-21 compliant material
Contaminants Reduction
MTBE is an organic compound that is a volatile, flammable with a minty odor leading to unpleasant taste and odor in water.
Chlorine taste and odour
Sediment & rust
Lead & parasitic protozoan cysts
VOCs* (*VOCs include but are not limited to: Benzene, Toluene and Styrene) – Volatile organic compounds (VOCs) are organic chemicals that have a high vapor pressure at ordinary room temperature. Some VOCs are dangerous to human health or cause harm to the environment.
Nominal Particulate: Class I, ≥0.5 to < 1.0 μm
Turbidity
Specifications
Inlet/Outlet Size: 1/4″ (0.64 cm) tube
Flow rate: 0.6 gpm (2.3 lpm)
Micron rating: 0.5 micron nominal
Dimensions: 40.6cm (H) x 27.6cm (D)
Replacement Cartridge
AP DWS 80/90 Cartridge for AP DWS1000 (RM467). Capacity: 625 gallons (2,365 liters) or 6 months
Certification
(for 3M) NSF/ANSI Standard 42 & NSF/ANSI Standard 53
3M Water Filtration System Dealers/ Suppliers Malaysia
XAMMAX, ATKC eWarehouse, Topware Solutions
Price
ATKC eWarehouse @Shopee – RM1,794.55
LotusMart.com – HK$ 3,788.0
4. Doulton EcoFast & Ultracarb® 9504 Ceramic Water Filter (Under-counter)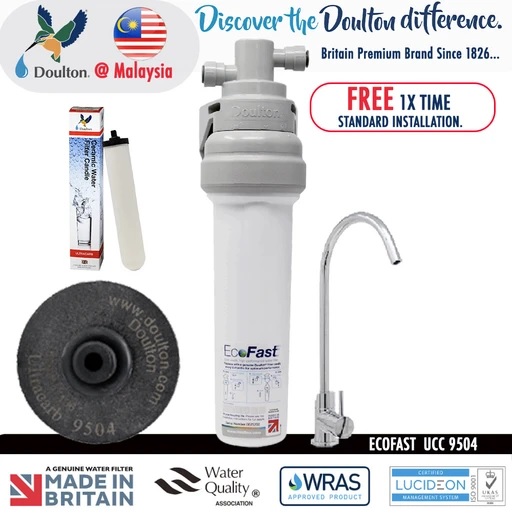 This Doulton® water filter system provides instantly filtered water, straight from the tap with compact design fits discreetly under the kitchen counter.
Contaminants Reduction
Outer Shell – Micro filtration of pathogenic bacteria, cysts, turbidity and particles
Anti-bacterial formulation contains silver to prevent microbiological growth within the ceramic element
Activated carbon block takes out chlorine, monochloramine and organics improving taste and odour
Heavy metal reduction media takes out toxic lead
Product Attributes
Filtration Rating: 0.5 to 0.8 micron
Filter Life: 6 months (under typical operation conditions)
Flow Rate: Up to 200L/hour
Certification
Tested and certified by NSF against NSF/ANSI Standard 42 and 53 (Doulton) for reduction of particulate, turbidity, cysts, chlorine (taste & odour) and lead.
Price
RM999.95 (MY SHOPNSAVE – doulton.com.my)
Doulton Authorized Distributor / Global Partner
Doulton® Malaysia
MY SHOPNSAVE GROUP SDN BHD
E-3-22, Plaza Arkadia, No. 3, Jalan Intisari, Desa Park City, Kuala Lumpur 52200 Malaysia
Tel.: +6012-3264381
Email: malaysia@doulton.com