The Calorie Calculator can be used to estimate the calories you need to consume each day. It also provides some simple guidelines if you want to gain or lose weight. Calorie calculator [here].
Depending on their height, weight, activity:
A
female

needs 1500 – 2000 calories a day
A
male

requires about 1800 – 2300 calories a day on average

Here's a list of food and their calories. A fried noodle from a mamak place for instance is cooked differently from a Chinese stall, as they use different ingredients. There are companies that show the nutrition/ calories info in their websites. After comparing the numbers from a few sources, this page shows the general/ average data (in calories).  Don't eat until you are 100% (or more) full, 80% is good. 80% diet rule can help you live a longer life, says longevity researcher.
Subway

One slice of cheese contains about 100 calories. 1 tablespoon of dressing has 60 calories. This is taken from the US site, so the numbers may vary [source]. Values include 6-inch bread, lettuce, tomatoes, cucumbers, peppers and onions, without cheese and sauces.
Examples:
Veggie Delite – 230 calories and 280 mg of sodium
Roasted Chicken – 320 calories, 610 mg of sodium, 23 g of protein
Tuna – 480 calories, 20 g of protein, 580 mg of sodium, 25g of fat.
Italian B.M.T – 410 calories, 1260 mg of sodium, 16g of fat, 20g of protein
Meatball marinara – 480 calories
Starbucks

Tip: Get the cappuccino or Americano and add your own sugar and milk if needed. If you feel like a Frappuccino, ask for the light (less sugar) version. No whipped cream.
Calories Count [source] (Grande size, without whipped cream) :
Americano – 15 Cal
Caffe Latte – 190 Cal (H), 130 Cal (Iced)
Vanilla Latte – 250 Cal
Cappuccino – 120 Cal
Caffe Mocha – 290 Cal (H), 230 Cal (Iced)
Hot Chocolate – 320 Cal
Mocha Frappuccino – 280 Cal
Java Chip Frappuccino Blended Coffee – 340 Cal
Whipped cream: 60 Cal
Snack and Others
One scoop (4oz/ 113g) of Baskin-Robbins ice cream has 240-340 calories depending on type
Krispy Kreme Doughnuts – 200 Cal (Original Glazed) to 400 Cal (Apple Fritter – Cinnamon and chunks of apple)
4 cookies – 26 g of Famous Amos Chocolate Chip & Pecan cookies has 150 calories
One slice of New York cheesecake contains 380 cal
One (1/6) piece (59g) of Chocolate Swiss Roll: 217 calories
Gardenia bread – 1 slice of original wholemeal bread: 92. white bread: 75
Egg tart (70g) – 217 calories
Super Essenso (microground coffee) 2in1 – 75 calories per serving (16g)
OldTown white coffee 3 in 1 Mocha – 160 calories per serving
curry puff – 130 cal
1 Teaspoon:

butter, margarine, mayonnaise – 45 cal
peanut butter – 33 cal
kaya – 39 cal
fruit jam 20 Cal

Mexican bun (coffee butter bun) – a whopping 424 calories!
Polo (pineapple) bun Hong Kong style – 235 Cal
Chinese Food
Egg Fried Rice (365g) – Fried rice, egg, seafood, meat – 678 Cal
Chicken Rice (380g) – Hainanese Chicken, with skin, oil rice, cucumber and chilli sauce – 630cal
Duck Rice – Roasted (410g) – roasted duck, rice, sauce, veggies – 673cal
Char Siu Rice (327g) – barbeque pork, rice, sauce – 605 cal
Fishball Noodle – Soup (798g) – yellow egg noodles, with fish balls, bean sprouts – 551cal
Wantan noodles soup (Hong Kong style 749g) – 631 cal | wonton – 311 cal
Fried Kway Teow/ Hor Fun (384g) – Flat rice noodles with meat/ prawns, sweet sauce – 744cal
Porridge With Minced Pork & Century Egg (512g) – Rice porridge with century egg and minced pork – 224 cal
Chicken Soup With Chinese Herbs (534g) – Soup with chicken and Chinese herbs – 145c
Minced Pork Noodle (dry) – noodles, minced pork, sauce – 383cal
Bak Chang/ dumpling (132g) – Glutinous rice with meat, chestnut, mushroom, steamed – 276 cal
Ban Mee (528g) – Flat noodles, anchovies, minced pork meat, green vegetables – 475 cal
Dim Sum
Har Gao (18g) – Minced prawns and fish meat, wrapped in a flour skin, steamed – 27 cal
Siew Mai (16g) – Minced pork, shrimp and fish meat, flour skin, steamed – 29 cal
Spring Roll, Deep Fried (22g) – Vegetables, shrimp, chicken wrapped in flour skin, fried – 70 cal
Pan-fried carrot cake 1 piece – 123 cal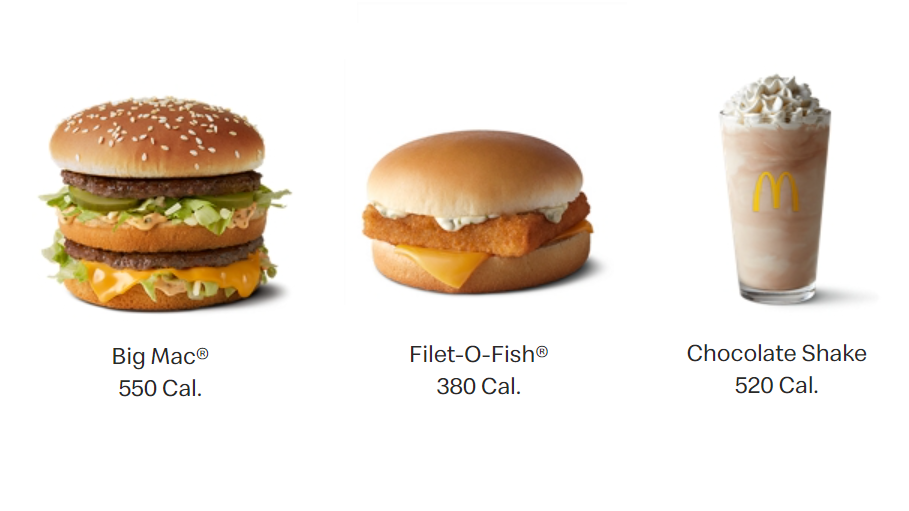 Big Mac – 550 Cal
Cheeseburger – 400 cal
Double Quarter Pounder®* with Cheese – 740 Cal
Medium fries – 320 cal
6 Piece Chicken McNuggets® – 250 Cal
Filet-O-Fish® – 380 Cal
Deluxe Crispy Chicken Sandwich – 530 Cal
Sausage McMuffin® with Egg – 480 Cal
Hotcakes (3 piece) – 580 Cal
McFlurry® with OREO® Cookies – 510 Cal
Chocolate Shake – 520 Cal
Indian/ Malaysian Food
Tip: Opt for chapati or thosai instead of roti canai.
Tandoori Chicken – it is baked so the fat drips off. Tandoori chicken leg and thigh has about 300 calories.
Examples (in Calories):
Chapati – made of whole wheat flour which is absorbed slower into your blood compared to polished white flour – 100 cal
Thosai – made of fermented pulses including dhal beans, rice flour and fenugreek – 80 cal
Roti canai/ paratha – 300cal
Half boiled egg – each egg (large 50g) has about 80 cal
Fried chicken per piece – 240cal
Curry chicken (drumstick): 159cal
Sambal squid (sotong) – 170 cal
Nasi lemak – 644 cal (coconut milk rice + sambal + boiled egg + ikan bilis (fried anchovies) + peanuts)
Fried rice – 630 cal
mamak mee goreng (fried noodles) – 660 cal
Teh tarik/ pulled tea – 90cal
Gravy – 60cal
White rice (1 cup, 132g) – 199 cal
Kenny Rogers Roasters
One set of quarter chicken + muffin + 3 side dishes can easily go up to 800 calories! Tip: Take the quarter chicken + 1 side dish set (go with the salad/ fruits) and take away the muffin for snack later.
Source: KRR Calories Calculator
Examples (in Calories):
Quarter chicken: 554 cal (wing). 382c  (drumstick).
Gravy: 21cal (original). 32 Cal (black pepper).
Muffin: 225cal (choc). 192cal (banana). 229 cal (vanila)
Side Dish:
Mashed potato & gravy: 61cal
Aromatic rice: 212cal
Coleslaw: 87cal
Crisp garden salad: 55 Cal
Other Sources
myfitnesspal.com, yahoo.com, healthxchange.sg, nutritionix.com