The most popular curriculum/ frameworks utilized by the International schools here in Malaysia are (Curriculum accreditation/ membership can be verified at the provider's websites):
Cambridge International Education 
Find a Cambridge school in Malaysia 
They support schools in developing a curriculum that suits their context, and that they can tailor to their students' needs. Cambridge Pathway Curriculums and Programmes is for students aged 5 to 19, four stages lead seamlessly from primary to secondary and pre-university years. 
Cambridge Upper Secondary | aged 14 to 16 years – It offers learners two routes: Cambridge IGCSE and Cambridge O Level.
Cambridge Advanced | aged 16 to 19 years – It offers two routes: Cambridge International AS & A Level, and Cambridge Pre-U for students to prepare for university.
International Baccalaureate (IB) 
Aims to develop inquiring, knowledgeable and responsible children. Students are guided to learn by constructing their own understanding through connecting the new information to their own experience and the world around them and working with others, for ages 5 – 19 | Primary Years Programme (PYP), Middle Years Programme (MYP), Diploma Programme (DP), and Career Related Programme (CP) | Find an IB World School in Malaysia here 
British/ UK/ English National Curriculum 
Represented by The Council of British International Schools (COBIS – find schools) | Website | Ages :- Early years: 3-5 | Key Stage 1: 5-7 | KS2: 7-11 | KS3: 11-14 | KS4: 14-16 (some children take GCSEs) | IGCSE (14-16 yo) | A Levels (16-18 yo) – Very structured and standardized curriculum across the UK.
IEYC (International Early Years Curriculum | IPC (International Primary Curriculum – age: 5 – 11) | IMYC (International Middle Years Curriculum – age: 11 – 14) | Find a Fieldwork Education School in Malaysia – Most International schools in Malaysia are members (but not accredited), with  access to learning support, tools and resource.
Canadian Curriculum | Y1 at 6yo – School curriculum is established by each provincial government. There is no national curriculum for Canada.
American Curriculum | Y1 at 6yo – There is no standardized curriculum in the US, American international schools are therefore accredited by one of the US-based regional educational accreditors.
Klang Valley
Abedeen International School | Cyberjaya  | Cambridge (International) | Malaysian (Private) | Age: 5-16 | Fee per year (2019): RM17,550 – RM19,000
Alice Smith School | Primary – Jalan Belamy (Seputeh) | Secondary (Taman Equine) | British Curriculum (COBIS Patron's accredited) – Fee per year 20/21: Year 1-2: RM69,420 | Year 12-13: RM93,300 & RM6600 (Building Levy Fee)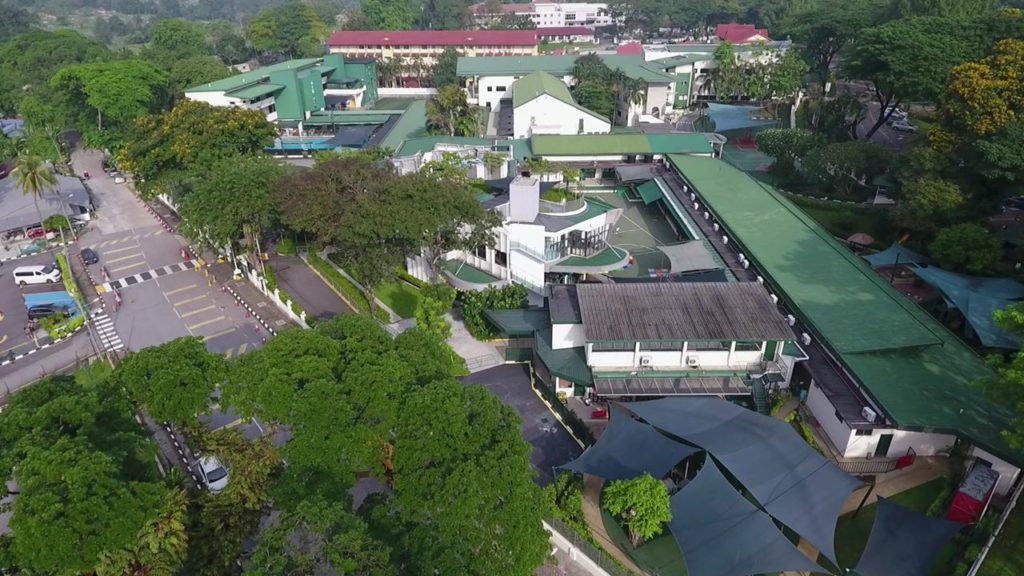 Photo: Alice Smith School
Alnoor International School | Jalan Istana (KL) | Cambridge | Age: 3-18 | Fee per year (2019): RM8,103 – RM19,650
Australian International School Malaysia (AISM) | Mines Wellness City (Seri Kembangan) | Australian Curriculum | Age: 3-18 | Fee per year 2021 Year 1: RM55,520 | Year 12: RM113,184
Baseerah International School | Sri Gombak | Cambridge | Age: 4-18 | Fee per year (2020/21): RM14,000 – 19,500
Beaconhouse Malaysia Sri Inai International | Taman SEA (PJ) | Curriculum: Cambridge International Curriculum | Age: 4-16 | Fee per year (2021) Year 1 : RM16,800 – Year 11: RM33,090
Beaconhouse Newlands International School | Jalan Cheras  | Curriculum: Cambridge & Inquiry Approach | Age: 4-16 | Fee per year (2021): RM16,800 – RM33,090
Campus Rangers International School | Jalan Klang Lama (Seputeh) & Bukit Jalil  | Curriculum: Cambridge & Singapore (Primary) & Cambridge of the British National Curriculum (Secondary) | Fee per year (2021) Year 1: RM14,640 – year 11: RM24,210
Cempaka International School | Damansara Heights | Cambridge, IBDP | Fee per year (2020/21): Year1-2: RM37,500 | Junior 1-2: 57,900 
Dwi Emas International School | Shah Alam | Curriculum: IPC (Primary) & Cambridge IGCSE (Secondary) | Fee per year (2020) Year 1,2,3: RM28,000 – Year 9,10,11: RM39,000 | Facilities: modern and nice
Eagles Grammar International School (EGIS) | Subang Jaya  | Cambridge International Curriculum / Cambridge Primary Programme (CPP) Enquiry-based | Age: 5-16 | Fee per year (2021) Year 1-3: RM15,985 – Year 10-11: RM21,485
Eaton International School | Kajang | adopts the British National Curriculum, Cambridge | Age: 2-16 | Fee per year (Sep 2020/Jul 21) Year 1: RM28,545 – Year 11: RM44,100 – Teachers: 70:30 International: Local teachers
elc International School | Sungai Buloh & Cyberjaya | British & Cambridge | Fee per year 20/21 Year 1: RM17,640 | What the teachers say 
EtonHouse Malaysia | Persiaran Stonor, KLCC | IB Early Years & IBPYP – Fee per year (2020/21): Year 1: RM35,800 | Year 6: RM42,000 | Teachers: International Homeroom teachers
Fairview International School Kuala Lumpur | Wangsa Maju (KL)/ Subang Jaya/ Johor/ Penang/ Ipoh/ P. Dickson (NS) | IB PYP MYP DP – Fee per year 2020/21 (KL): Grade 1: RM30,000 | Grade 13: RM60,000
Garden International School (GIS) | Mont Kiara | Adapts British curriculum | Age: 3-18 | Fee per year (2020/21) Year 1-2: RM71,040 – Year 12-13: RM98,460
GEMS International School Tropicana Metropark | Subang Jaya | British (COBIS member) | Year 1 age: 5 | Fee per year (2020/21) (Year 1-3): RM30,625 – RM47,875 (Y12-13) | Teachers
German School Of Kuala Lumpur – Deutsche Schule of Kuala Lumpur (DSKL) | Jalan Utara, PJ  | German Curriculum | Age: 3-18 | Fee per year (2020/21): K2: RM23,350 | Grade 1: RM41,850 – G12:RM49,050 | main medium of instruction: German
Global Indian International School KL (GIIS) | Brickfields | Cambridge (from Sep) & Indian (CBSE) from April | Fee per year (2020/21): Std 1-3: RM14,130 – Std 12: RM24,090
Havil International School | Cambridge | Brickfields – Fee: Year 1 & 2: RM14,700 | Year 10 & 11: RM23,400 (combined 2-years fees)
Help International School (HIS) | Shah Alam | British, Cambridge, IPC | Age 3-18 – Fee 2020/21 (Sep-Jul) : Pre-school: RM23,496, Year 1: RM 35,241 to Y11: RM50,904 | 70% International Teachers 
Hibiscus International School | Segambut | Cambridge | Fee per year (2020/21): Year 1-2: RM26,736 | Year 10-11 (IGCSE): RM39,675
Idrissi International School | Setia Alam | British, Cambridge, Islamic | Age: 5-17 | Fee per year (2019): RM11,500 – RM19,500
IGB International School | Sungai Buloh | IB PYP MYP DP CP – Fee per year 2020/21: Grade 1: RM70,100 | Grade 12: RM95,800 | Teachers | Grade Placement: Grade 1 starts at 6/7 years old
Inspiros International School | Setia Walk, Puchong | British, Cambridge – Fee per year 2020 (Jan – Nov) year 1: RM12,000 | Year 11: RM19,000
King Henry VIII College | Cyberjaya | British, Cambridge | Fee per year 2020/21 (Sep-Jul) Year 1: RM15,000 – Year 13: RM80,000 | Teachers: Predominantly from the UK | Year 1 starts at 5+
Maple Leaf Kingsley International School (KIS) | Putra Heights, Subang Jaya | Cambridge | Fee per year 2020/21 (Sep – Jul) Year 1: RM

21,609

| School hours: from 7.40 am (primary & secondary)
Kingsgate International School | Taman Bukit Serdang | Cambridge | Teachers : International homeroom teachers | Fee per year (20/21): Year 1: RM32,000 | Year 13: RM68,000 | Year 1 starts at 5-6 yo
Lycee Francais de Kuala Lumpur (LFKL) – French International School | Dutamas | French Curriculum | Yearly school fees 20/21 Elementary: RM38,000 | Teachers | Multilingualism: In elementary school, the English teacher is present 1/3rd of the time
MAZ International School | Taman Paramount, PJ & Shah Alam  | British, Cambridge | Age: 3-16 | Fee per year 20/21 Year 1: RM14,250
MITstem International School | Kota Kemuning | British, Cambridge | Fee 2020: Year 7 : RM22,000 – Year 11 : 26,600
Mont'Kiara International School (MKIS) | IB PYP MYP DP  – Fee per year 2020/21: Grade 1-5: RM88,580 | Year 9-12: RM110,828
Mutiara International Grammar School (MIGS) | Ampang Jaya | British, Cambridge | Age: 3-16 | Fee per year 2019/20:  RM17,745 – RM50,700
Nexus International School Malaysia | Putrajaya | IEYC, IPC – International Primary Curriculum (IPC) | Middle School Programme (MSP) | Years 12 and 13: IBDP ( International Baccalaureate Diploma Programme) – Fee per year (2020/21: Year 1, 2: RM52,125 | Year 12, 13: RM86,367
Oasis International School Kuala Lumpur (OIS) | Rimbayu (Saujana Putra) | American Curriculum – Fee per year 2020/21 elementary: RM38,000 | Grade 9-12: RM58,000 | Teachers 
Peninsula International School Australia | Setia Alam  | Australian Curriculum | Age: 5-18 | Fee per year (fixed until 2023) Year 1: RM26,000 | Teachers 
Qosmo International School | PJ | Cambridge | Fees per year 20/21 Sep – Jul Pre-school – Year 1: RM22,080 – Year 10: RM29,670 | Teacher-student relationship 
Rafflesia International School (RIS) | Cambridge, IEYC, IPC | Bandar 16 Sierra (Puchong)  and Kajang | International and Private – Fees 20/21: Year 1- year 11: RM22,680 – RM45,360 per year
R.E.A.L. International School | Shah Alam, Cheras, JB | UK National Curriculum, Cambridge | Age: 3-16 | Fee per year 20/21 (Sep – Jul) for Cheras Year 1: RM18,380 – Year 11: RM31,180 | Shah Alam fees: from Year 1 RM21,520
Regent International School | Klang | British, Cambridge | Age: 5-16 | Fee per year (2019): RM12,000 – 17,500
Sayfol International School | Jln Ampang, KLCC  | British | Age: 2-18 | Fee per year (2020): RM12,600 – RM30,250
Seven Skies Islamic International School | Kota Damansara | British, Cambridge, Arabic | Age: 3-16 | Fee per year (2020/21): Year 1 RM19,980 – Year 10/11 RM26,880
Spectrum International Islamic School | KL & Putrajaya | Islamic, British, Cambridge | Fee per year (2020): Year 1: RM14,200 – Year 12: RM19,900
Sri Bestari International School | Bandar Sri Damansara | British, Cambridge, IGCSE
Sri Emas International School | SS7, PJ | Cambridge | Fee per year 2021 Primary: from RM 19,500 | Secondary Year 7 (age 11) &8: RM26,400 | Year 9,10,11: RM31,200 | ACE EdVenture Approach: Prepare the students for future, combining fun + learning for effective education
Sri Kuala Lumpur School | Subang Jaya  | British, Cambridge | Age: 5-16 | Fee per year (2020/21): RM18,100 – RM34,100
Sri Sempurna International School | Yulek, Cheras | Cambridge curriculum – Fees per year: Primary School: RM10,000 – RM13,000 |  Secondary School: RM14,000 – RM18,000 
Sri Utama International School | Wangsa Maju | Cambridge | Age: 3-18
St. John's International School (SJIS) | Bukit Nanas, KL | Cambridge – Fee per year (2021): Year 7-9: RM19,250 | Year 10-11: RM22,900
St Joseph's Institution International School Malaysia (SJIIM) | Tropicana | IPC, IGCSE, IBDP – Fee per year (2021/22): Year 1: RM53,316 | Year 13: RM93,906 – a good mix of international students
Straits International School (SIS) | Rawang & Penang | British Cambridge, IEYC, IPC | Teachers | Tuition fee per year 20/21 (Rawang) Year 1: RM18,480 – Year 11: RM30,120 – Local and International teachers with good command of English
Tanarata International School | Kajang | Cambridge – Fee per year (2020/21) Year 1 : RM18,900 
Taylor's International School | Puchong & Maluri, Cheras | IPC & Cambridge | Fee per year (2020) Jan – Nov: Year 1 (6 years old): RM21,900 – Year 11: RM45,690 | Teachers (Puchong) | Teachers (Cheras) 
Tenby International School | Ipoh, Penang, Setia Eco Gardens (JB), Setia EcoHill (Semenyih), Tropicana Aman (Kota Kemuning), Setia Eco Park (Setia Alam) | Curriculum: British, Cambridge, IPC | Annual Fee 20/21 (Setia Eco Park) Year 1: RM21,195 | About 30% International teachers
The British International School Kuala Lumpur (A Nord Anglia Education School) | English National Curriculum (COBIS Patron's Accredited) | Annual School fee 20/21 from Early Years: RM45,600. Year 1: RM55,170. Year 13: RM99,970 | Teachers 
The International School at Parkcity (ISP) | British, IPC – Fee per year 2020/21: Year 1: RM49,800 | Year 13: RM81,750
The International School of Kuala Lumpur (ISKL) | Ampang Hilir | IB World School | Fee per year 2021/22: Prep to Grade 5: RM84,315 | Grade 9-12: 106,695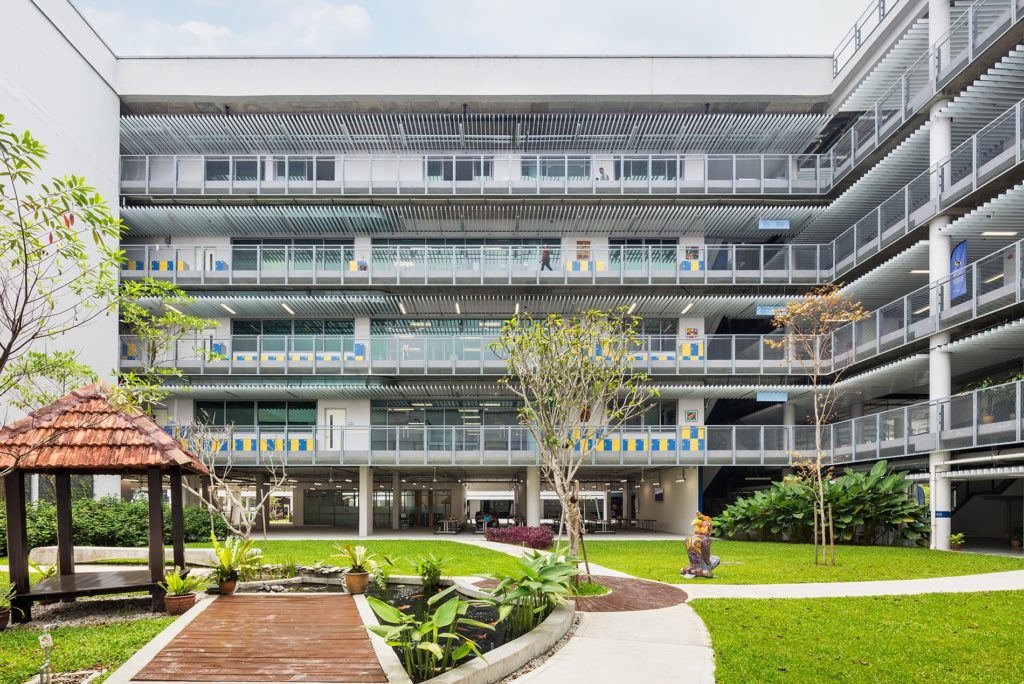 The International School of Kuala Lumpur. Photo: hok.com
UCSI International School

Springhill: IB | Fee per year (2020) from RM35,301 (Grade 1-5) – RM55,899 (Grade 11-12) – Teachers (Springhill): about 60% international teachers
Subang Jaya: IPC (Primary), Cambridge (Secondary) | Teachers: mostly expats | Fees: RM18,540(Y1) – RM32,970 (Y11-12) 
KL: IPC & Cambridge | Opened in Jan 2020 | Teachers | Fees Year 1: RM29,700 – Year 11: RM42,900

Valley International School | Brickfields | British | Age: 3-14 | Fee per year (2019): Year 1: RM15,000 – RM22,500
Vikas International School | Klang Lama | Curriculum: Indian | Fee per year 2020: Standard 1-5: RM10,600 | Standard 9-10: RM13,500
Wesley Methodist School Kuala Lumpur | British | Sentul Selatan | age: 11-16 – Fee per year 2019: RM20,540 – 24,540 
Zenith International School | National Curriculum of England, Cambridge | Fees 20/21: Klang (Year 7 RM19,700/year), Bukit Raja 
Negeri Sembilan
Epsom College in Malaysia | Bandar Baru Enstek, NS | British | Fee per year (2020/21): Year 1: RM62,875 – Year 12,13: RM94,035
Kolej Tuanku Jaafar | Mantin, NS | Cambridge, Edexcel, IEYC, IPC | Age: 3-18 | Fee per year (2019): RM15,600 – 86,700
Matrix International School | Sendayan, Seremban | Cambridge –Fee per year (2020): year 1&2: RM21,000 up to year 10 & 11: RM75,600
Nilai International School | British | Age: 3-16 | Fee per year (2020): RM13,350 – 43,050
Zenith International School | Seremban, Klang, Bukit Raja | National Curriculum of England, Cambridge | Fees 20/21: Seremban (Year 1 RM9,975/ year)
Penang
Prince of Wales Island International School | British (COBIS member) | Fees 21/22:- Nursery: RM9,600, Year 1: RM13,500 – Year 13: RM54,000 per year
Straits International School Penang | Fees Year 1: RM21,000 per year | British Cambridge Curriculum
Johor
Marlborough College Malaysia | Iskandar Puteri | British National Curriculum (COBIS Patron's Accredited), IBDP | Fees 21/22: Pre-prep to Year 2 RM84,000 per annum
Raffles American School | Puteri Iskandar, Johor – Fee 2020: Grade 5-8: RM89,600 | Grade 9-12: RM96,800
Stellar International School | Puteri Harbour | IEYC, IPC, Cambridge, Singapore
Sarawak
Woodlands International School | Sibu | Cambridge, IEYC | Fees 20/21: Kindergarten from RM6k, Y1 RM12,500 per year